Industry's first custom gelcoat fiberglass interior for Mercedes Sprinter vans.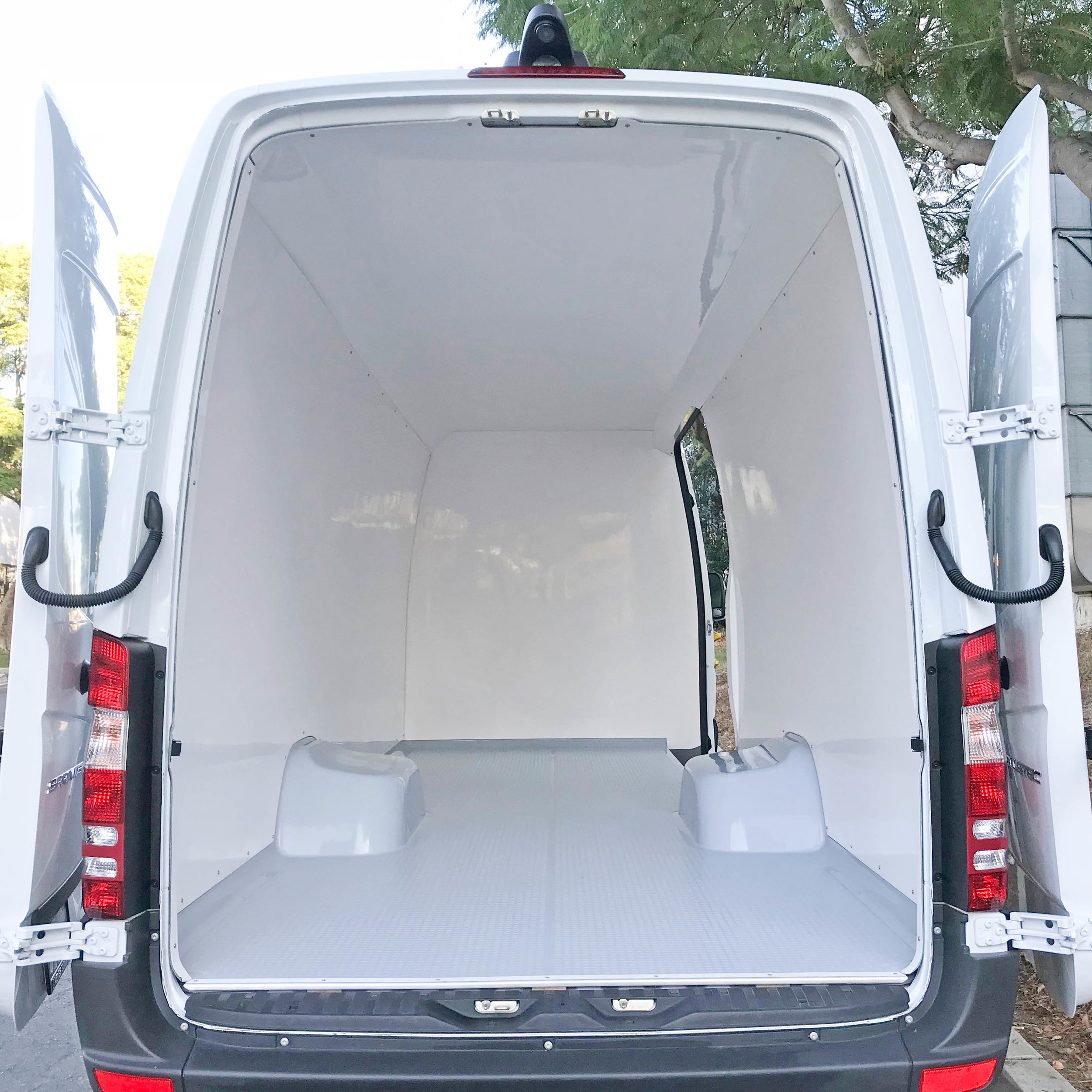 A guy walks into a high-end boat manufacture ...
Well, building molds for such a project is no picnic. It requires tremendous experience, time and talent - a lot of artistic talent. Luckily, we knew the perfect crew.
Originally designed to solve the problem of clean-up, assembling dozens of pieces, and moisture penetration for the mobile pet grooming industry, this sleek custom fiberglass interior, the SPR-INNER, can be used for every type of Mercedes Sprinter van outfitting: RVs, plumbers, electricians, toy haulers, people transportation, mobile office, etc.
California Sprinter Interiors is a division of Teknopet, Inc., and is housed under the Lavey Craft Motorsports roof, in Corona, California. Lavey Craft Motorsports has been in operation since 1952, and they have mastered all aspects of fiberglass fabrication for decades. They build high-end solid and beautiful boats, as well as body parts for off-road vehicles.
It took a year of one man labor to build the SPR-INNER molds, by master designer and tool maker Ron Camire. Ron is a very well renown engineer in the industry, and winner of multiple product quality awards.
The SPR-INNER offers impeccable fit, beautiful smooth finish, several finish options, and is easy to install.
What's cool about the SPR-INNER
We are very proud of our unique fiberglass, 100% waterproof, color/faux finish/graphics customizable panels for Mercedes Sprinter vans.
Our custom gelcoated fiberglass panels:
are extremely durable and easy to maintain.

interlock/overlap at the seams and fit perfectly together (no gaps).

offer curved edges, so dirt and fluids can't and won't get stuck in nooks and crannies.

leave plenty of space for wiring behind them.

offer very versatile looks and finishes, they can be painted any color you wish, we can incorporate graphics, logo, and also make them look like wood panels, etc.

offer an anti-slip pattern for the floor, integrated in the fiberglass mold.

can be repaired, although it would take something major to damage them.

were designed for the Mercedes Sprinter 3500XD (high roof) and 170" EXT wheelbase (289.8"), but can be adapted for certain other specs. The interior/chassis has been the same since the 2015 model.

can be purchased as a kit or separately.
The SPR-INNER is MUCH stronger than FRP (Fiberglass Reinforce Plastic), bordering on strength of metal. It is also highly resistant to puncture and scratching. In the rare case where a panel would be damaged, it can easily be repaired and buffed to its full original luster.
We also make running boards.
The long process of building fiberglass molds
Creating molds is an extremely labor intensive process which requires a huge amount of expertise, talent and design. Here are some of the steps: